frequently asked questions
what is yoga?
---
Yoga is commonly defined to mean 'union.' This union can be specific to however yoga fits into your life. For some people it's the union of breath with movement, breath with mindfulness, exploring your internal environment (the self) while working to unravel the external environment. For me, the beauty of yoga is that it is a personal practice that can ebb and flow just as your emtions and physical needs do. Sometimes I crave a minimal movement, slow, breath-centered yoga practice and other times I want to sweat it out to an energetic asana (pose-centered) yoga practice. Yoga has a long, beautiful history and I have found that a yoga journey is never ending. There's always more to learn about yoga and all that it has to offer.
---
what do you mean by vinyasa style yoga?
---
I obtained my 200-hour yoga teaching training certification in a Vinyasa style studio environment. Vinyasa is defined as being arranged in a certain manner and can take on different meanings in different yoga practice styles such as power vinyasa, Baptiste vinyasa, or Ashtanga, to name a few. In my classes, I use the term vinyasa as a transitional phrase of movements. On one hand, students may move through the following vinyasa: high plank to low plank (or chaturanga) into upward facing dog to downward facing dog. Another variation may be to lower to your belly from high plank into baby cobra pose to table top and into downward facing dog. Yet another variation may be high plank directly into downward facing dog. The options and available pose arrangements are limitless just as the definition of yoga is unique to each practitioner. Know that you hold all of the power in your yoga practice and be empowered to make your own transition decisions based on how you're feeling, how you've approached your practice, and what you're looking for from your practice. Answers to these questions can and will look different on different days. Here are two vinyasa options that I like practicing: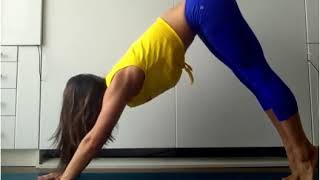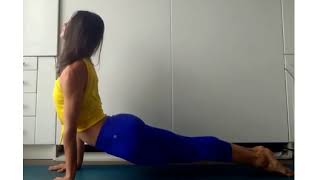 ---
i am not flexible, can i still do yoga?
---
YES! YES! YES! YES! YES! YES! YES! YES! YES! YES! YES! YES! There are no prerequisites to beginning your yoga practice and, even if there were, flexibility would not be one of them. This is a common misconception that flexibility is needed before starting a yoga practice. I've noticed an uptick in yogis asking me this question with the prominence of social media and the Intagram Yogi. Know that what you see on Instagram and various social media outlets is simply that. Also keep in mind that social media is used for self-promotional purposes so yogis are likely to "show off" in their posts with out-of-this-world flexibility and pose choices. I am guilty of this at times as well! If anything, a perceived lack of flexibility is a great reason to start your yoga practice. And it's much easier said then done, but it's important to stay present with yourself on your mat and not compare what your body is able to do with those around you. The virtual environment in which we currently find ourselves practicing, this is the perfect time to overcome your fear of yoga! There's a common saying that reasonates with me: Yoga is not about touching your toes. It is what you learn on the way down. - Jigar Gore
---
i'm ready to start my yoga journey, what do i need?
---
It can be very overwhelming to search for accessories and items needed for your yoga practice. Options are limitless and marketing wins in this realm of the yoga world. It's also very likely that you have items in your home already that can be used to support and supplement your yoga practice. Suggested Items for your Yoga Practice: Water Bottle - Having a full water bottle within arms reach during your practice can help you to stay present during your session. It's also never a good idea to forego water; hydration is key to a happy and healthy life! You can always simply use a cup for water if you don't already have a water bottle. I'm just incredibly clumsy and would definitely kick a cup or glass of water while practicing. :P
Yoga Mat - Options here are quite literally endless regarding padding, mat depth, stickiness, softness, price point, you name it. You may find it helpful to read through a ranking of yoga mats such as this one. Do know that companies are constantly working to improve and make new versions of their existing mats. For the past few years I have been using a classic Lululemon yoga mat and I prefer the 5cm over the 3cm thickness. It provides a bit more padding and support especially for my home practice. Know that you might also be comfortable using a towel or nothing at all if you practice on carpeting. Yoga Block(s) - Yoga blocks can be really helpful in supporting your practice in a variety of ways. In some asanas (poses) they can be used to literally bring the ground closer to you, helping with stiff muslces and to provide assistance in sustaining poses. Blocks are helpful to sit on if sitting in a cross legged position proves challenging for you. Lifting your hips off the ground allows more wiggle room in your hips and can make the pose more comfortable. If you don't want to invest in a yoga block or two, check out your library of books and see if you might have a stack of thick books (like an almanac or a few encyclopedias) that can substitute your need for a block. Yoga Strap - Yoga straps can be super helpful when practicing active and passive stretching during your class. I find them particularly helpful in hamstring stretches as well as in one-legged balancing postures. Again, you likely have a belt or scarf lying around your home that can easily substitute for a yoga strap. Yourself - This may seem like a 'duh, Melissa' moment, but it's true. It may take time before you're feeling comfortable in your home yoga space, but work to arrive to your mat as present, open, and receptive to whatever the practice may offer to you. Showing up for yourself, I think, is the first and most important step to take on your personal yoga journey. Notice I'm missing anything in this list? Let me know!
---
how do i access virtual yoga sesh ondemand?
---
To rent or purchase a virtual yoga sesh on demand, create an account by clicking 'log in' on the top right of this page. If you are new to my site, create an account by clicking 'sign up.' You have the option to sign up with a Google account or with your email. If you already have an account, select your login option. Once you have logged into the site, click on the '$' appearing on the video you would like to rent or purchase. Select your rent or purchase option and click 'continue.' Proceed through the payment process and either pay via your PayPal account or a credit/debit card. Upon completing your payment, you'll be directed to the video player. Rentals are available for 48 hours. If you've opted to purchase an ondemand video, you have unlimited access to that video. To replay, simply return to the website, login, and access the video you've rented or purchased. ​ Have additional virtual yoga sesh ondemand questions, check the FAQ.
---
what is virtual yoga sesh ondemand?
---
Virtual yoga sesh ondemand are pre-recorded yoga classes that you can rent or purchase and enjoy on your schedule. Videos are continuously being added to the video library, and feel free to send requests for virtual yoga sesh ondemand.
---
---
Have a question? You're likely not the only person with that question. Send it my way and I'll get back with you directly as well as add to this page.